Kamigami no Asobi: Ludere deorum

Kanji

神々の悪戯

Rōmaji

Kamigami no Asobi

Genre

Romance, Otome

Game Information
Developer
Publisher
Illustrator

Kazuki Yone

Release Date

October 24, 2013

Game Modes

Single player

Ratings

CERO: Ages 15 and up

Platform

Kamigami no Asobi (神々の悪戯 Mischief of the Gods), abbreviated as KamiAso, is a Japanese otome game published by Broccoli (company). It was released in Japan on October 24, 2013 for the PlayStation Portable.
Plot
The heroine, Yui Kusanagi, is the daughter of a Shinto shrine. She discovers a mysterious sword, which transports her to a different world where she meets the Greek god Zeus. He invites her to attend a school in a separate world that he created. Zeus intends to teach the meaning of love to the various young divine beings who also attend the school, in an attempt to reverse the weakening bond between humans and the gods.
Characters
Main Characters
Sub Characters
Gameplay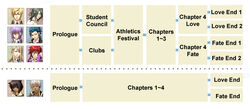 Kamigami no Asobi is classified as an otome game; like most otome games, the player takes the role of the main female character, Yui Kusanagi, who can choose from a variety of male characters as her love interest.
At the start of the game, only Apollon, Hades, Tsukito, Takeru, Balder and Loki will be available as potential love interests. The player has to complete at least one end for each of them in order to unlock Anubis's route. Thoth's route will be available only after completing Anubis's route once.
All characters share the same Prologue chapter. Apollon, Tsukito and Balder share the same student council chapter while Hades, Takeru and Loki share the clubs chapter. Each character has slightly different athletics festival chapters before branching into their separate routes. Each route has three normal chapters, two versions of Chapter 4 (Fate or Love) and 4 possible ends (two Fate or Love). Thoth and Anubis each has four normal chapters and 2 possible ends (one Fate or Love).
Music
Opening Theme
Artist: Daisuke Ono
Ending Theme
Artist: Daisuke Ono
External Links
References